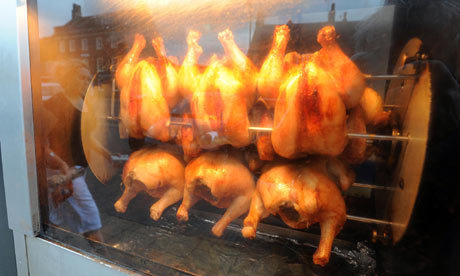 I have cooked a few rotisserie chickens in my life.  Lets see, if I worked 5 days a week and we made 40+ chickens per day, well, you get the picture, it comes out to a lot! 
Last week, Grandma and Grandpa came for supper and they brought a rotisserie chicken from Sprouts.  If you think I have cooked a lot of chickens, you should ask Grandpa how many he has made in his lifetime. They don't call him Deli Jim for nothing!
Today I tried the rotisserie chicken recipe from the great crock pot cookbook I got for Christmas.  The book is called Make it Fast, Cook it Slow and has all kinds of things you can make in your crock pot!  HERE is the link to the blog that goes with the book.
And here is the recipe!  Enjoy.
--1 whole chicken, skinned (4-5 pounds)
--2 tsp kosher salt (if you'd like it as salty as the ones in the store, add another 1 tsp.)
--1 tsp paprika
--1 tsp onion powder
--1/2 tsp dried thyme
--1 tsp Italian seasoning
--1/2 tsp cayenne pepper
--1/2 tsp black pepper
--pinch of chili pepper (probably not necessary)
--4 whole garlic cloves (optional)
--1 yellow onion, quartered (optional)
Skin the chicken and get rid of the neck and other stuff from the cavity.
In a bowl, combine all of dried spices. Rub the spice mixture all over the bird, inside and out. Plop the bird breast-side down into the crock pot.
If desired, shove 4 whole garlic cloves and a quartered onion inside the bird.
Do not add water.
Cover and cook on high for 4-5 hours, or on low for 8. The meat is done when it is fully cooked and has reached desired tenderness. The longer you cook it, the more tender the meat.